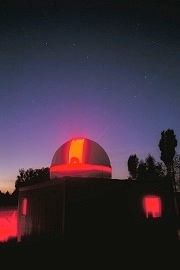 We are a small but quite an enthousiastic group of amateur astronomers from the area Aalst-Dendermonde in Belgium and 25Km from Brussels. In 1993, we decided to join our forces. At this very moment, Andromeda has 12 members. Together we built a small observatory. In the dome we have a 8 inch Schmidt-Cassegrain telescope while outside there are 5 pillars with a 12VDC connection, powered from a power supply inside.
We meet every friday evening in the observatory. Whenever the sky is clear, we can observe with the club telescope and individual scopes outside. Unfortunately, our climat gives us quite a few cloudy nights. In that case, we have some other astronomical activities:


•A compilation of all astronomical news of the past week


•Review of articles in astronomical magazines of the current month


•An "astronomical subject of the week", presented by one of the members


Every last friday of the month, we have our 'general meeting'. Besides the normal agenda, one of the members gives a (powerpoint or slide) presentation about an astronomical subject.

Coordinaten : 50 58' 46" --- 4 03' 13,6"